RedAriesRising
Regular price
Sale price
$17.49
Unit price
per
Sale
Sold out
🌞 Rise and Shine with Our Morning Cup Soap Bar! ☕✨
Start your day with a burst of energy and freshness! Introducing our new Morning Cup Soap Bar, handcrafted with love and packed with the goodness of 100% Cacao, Olive Oil, Babassu Oil, Cocoa Butter, Coffee grounds, Cocoa powder, and invigorating Peppermint and Coffee Essential Oils. ☕🍃
🍫 Key Ingredients: The magic begins with the purest Cacao, known for its antioxidant properties, combined with nourishing Olive Oil, Babassu Oil, and creamy Cocoa Butter.
☕ Coffee Boost: Wake up your skin with exfoliating Coffee grounds and the rich aroma of coffee, while Cocoa powder adds a luxurious touch.
🌿 Refreshing Peppermint: Enjoy the refreshing tingle of Peppermint Essential Oil, leaving your skin cool and revitalized.
✨ Benefits:
Deeply cleanses and exfoliates for a radiant glow.
Rejuvenates and hydrates tired skin.
Awakens your senses with an invigorating coffee aroma.
Leaves your skin feeling soft, smooth, and refreshed.
🚿 Elevate your morning routine with the Morning Cup Soap Bar. It's a treat for your skin and your senses! ☕🛁
Get yours today and experience the magic of a morning cup for your skin. ☀️✨
#MorningCupSoap #SkinCareMagic #CacaoGoodness #CoffeeLovers #NaturalBeauty #MorningRitual #FreshStart #HandcraftedSoap #SkinLove #AwakenYourSenses #CoffeeScrub #MorningEssentials
Product Description:
Elevate your morning shower routine with our Morning Cup Soap Bar, a luxurious blend of natural ingredients designed to awaken your senses and rejuvenate your skin.
🍫 100% Cacao: Known for its powerful antioxidants, Cacao helps protect your skin from environmental damage.
🌿 Olive Oil & Babassu Oil: Nourishing and hydrating oils that leave your skin soft and supple.
☕ Coffee Grounds & Cocoa Powder: Gently exfoliate, revealing smoother, glowing skin while providing an energizing coffee aroma.
🍃 Peppermint & Coffee Essential Oils: The refreshing tingle of Peppermint and the invigorating scent of Coffee Essential Oils will jumpstart your day.
Experience the magic of a morning cup for your skin. Start your day feeling refreshed, revitalized, and ready to conquer the world. 🌞☕
#MorningCupSoap #SkinCareEssentials #NaturalIngredients #CoffeeScrub #MorningRoutine #FreshStart #HealthySkin #AwakenYourSenses #CacaoGoodness #CoffeeLovers
View full details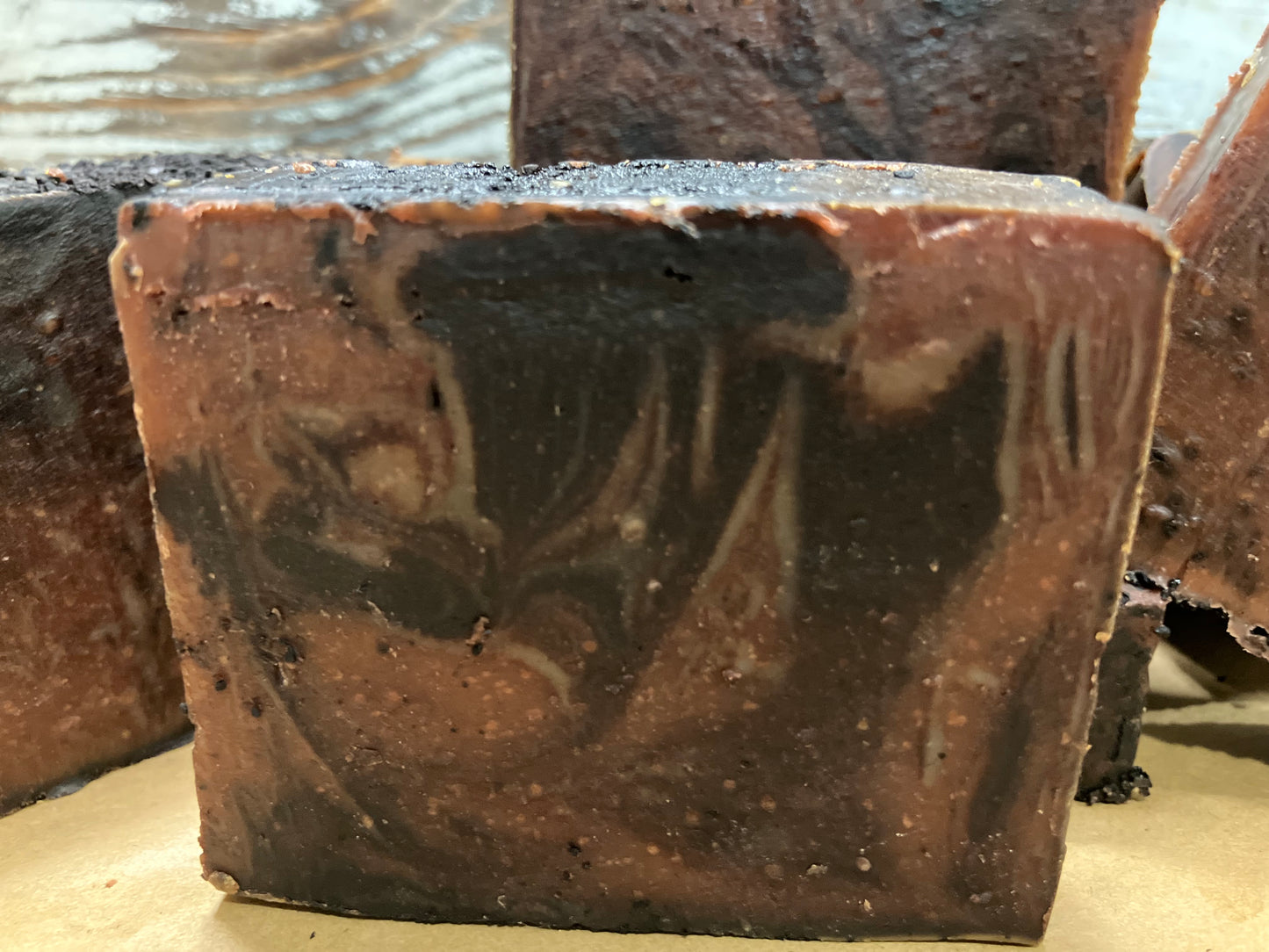 Morning Cup Bar Soap
Highlights

Using 100% Cacao this bar is formulated to condition and moisturize the skin, as well as providing a high lathering, gentle exfoliating effect from the coffee grounds and cocoa powder for a luxurious feeling on your skin during and after use.
Ingredients

100% Cacao, cv, Coffee grounds, cocoa powder, and a blend of Peppermint and Coffee Essential Oils
How to

Use within 6 months of the batch date

Disclaimers

DISCLAIMERS
• Statements/information on or from this website have not been evaluated by the Food and Drug Administration.
• The information provided and the product(s) contained/manufacture are not intended to be a substitute diagnosis or used to treat, cure or prevent any disease.
• When switching from chemical products to natural products; irritation, redness or burning can occur.
• It is recommend doing a patch test for any product before fully utilizing on your body.
• Irritation, redness and burning are reactive symptoms, if experienced during patch test, DO NOT USE PRODUCT.
• If at any time these symptoms or reaction occurs, DISCONTINUE USE OF PRODUCT(S) IMMEDIATELY.
• The consistency of our products may change due to extreme heat or cold weather.
• Products may freeze and/or melt during transit (shipping or delivery). Red Aries Rising, LLC recommends selecting a local market to pick up because we are not responsible for freezing or melting of products during shipping.
• Products are small batch handcrafted. There may be inconsistencies from the use of natural ingredients.
• The products are made with same recipes, however, temperature and product lots could impact the color, scent, and/or texture of individual batches