RedAriesRising
Regular price
Sale price
$35.00
Unit price
per
Sale
Sold out
🌿🌸🌿 Introducing Eternal Restore, a luxurious body oil made with therapeutic and skin-supportive carrier oils designed to repair and pamper environmentally stressed and mature skin. Infused with Apricot Kernel, Macadamia Nut, Rose Hip Seed, and Tamanu Oils, this body oil helps to rejuvenate and nourish your skin, leaving it feeling healthy, even-toned, and supple. 🌿🌸🌿
🌞☀️ Not only does this body oil provide essential hydration and nourishment to your skin, but it also aids in healing mild first-degree burns and rejuvenates post-operative skin. It's perfect for relieving the discomfort of sunburn and windburn and reducing the appearance of stretch marks. ☀️🌞
💛🧡 The blend of Carrot Seed, Helichrysum, and Calendula Essential oils adds a layer of skin-supportive benefits to this body oil. These essential oils are known for their anti-inflammatory properties, which help to reduce redness and inflammation while promoting skin regeneration. 💛🧡
Say hello to healthy, rejuvenated skin with our therapeutic body oil! #bodyoil #skincare #healthyskin #nourish #rejuvenate #antiinflammatory #stretchmarks #sunburn #windburn #essentialoils #carrotseedoil #helichrysumoil #calendulaoil #apricotkerneloil #macadamianutoil #rosehipseedoil #tamanuoil 🌿🌸🌞💛
View full details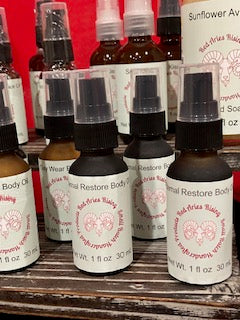 Eternal Restore
Highlights

🌞☀️ Not only does this body oil provide essential hydration and nourishment to your skin, but it also aids in healing mild first-degree burns and rejuvenates post-operative skin. It's perfect for relieving the discomfort of sunburn and windburn and reducing the appearance of stretch marks. ☀️🌞
Ingredients

Apricot Kernel, Macadamia Nut, Rose Hip Seed, and Tamanu Oils Carrot Seed, Helichrysum, and Calendula Essential oils
How to

Shake before application and use within 6 months of the Batch Date

Use once in the morning and evening. After cleaning and applying toner astringent or hydrosol, while the skin is still damp, use 10 - 15 drops rubbing palms together. Gently lightly massage starting at your chest, then up to your face in circles. Wait 5 minutes before applying any other product to the area.

PLEASE CONSULT your health care provider before usage, particularly on recent surgical incision

Scar Tissue/Skin repair. Apply 10 - 15 drops to the be affected area twice daily.


Scent

Carrot Seed, Helichrysum, and Calendula Essential Oils
Disclaimers

DISCLAIMER: These statements have not been evaluated by the Food and Drug Administration. This product is not intended to diagnose, treat, cure or prevent any disease
When switching from chemical products to natural products; irritation, redness or burning can occur. We recommend doing a patch test for all of our product before fully utilizing on your body.
Irritation, redness and burning are reactive symptoms, if you experience during patch test, DO NOT USE PRODUCT. If at any time you begin to have these reactions, DISCONTINUE USE OF PRODUCT(S) IMMEDIATELY.
DISCLAIMER: The consistency of our products may change due to extreme heat or cold weather. Products may freeze and/or melt during transit (shipping or delivery). Red Aries Rising recommends selecting a local market to pick up because we are not responsible for freezing or melting of products during shipping.
DISCLAIMER: Our products are small batch handcrafted. There may be inconsistencies from the use of natural ingredients. Our products are made with same recipes, however, temperature and product lots could impact the color, scent, and/or texture of products.