Aisle 9 Soap Co
Regular price
Sale price
$3.00
Unit price
per
Sale
Sold out
Ready for the ultimate skincare oasis? Dive in! 🌊💚
🌿 Introducing Aisle 9 Soap Co's Oasis Bar Soap! 🌿
Transform your daily shower routine into a luxurious spa-like experience with our all-natural Oasis Bar Soap. Crafted with care, this soap is more than just a cleansing tool; it's a refreshing oasis for your skin and senses.
✨ Why choose Oasis Bar Soap? 🌱 Packed with nourishing ingredients like olive, tallow, coconut, and avocado, our soap provides the ultimate skin hydration. Say goodbye to dryness and hello to silky-smooth skin!
🌿 Tea tree essential oil and activated charcoal join forces to offer detoxification and purification benefits. Your skin will thank you as impurities are washed away, leaving you feeling rejuvenated.
💚 What you'll love: 🌊 A gentle and moisturizing cleanse 🍃 Detoxification for clear, radiant skin 🧖‍♀️ Spa-worthy luxury in your daily routine
Elevate your shower time with the Oasis Bar Soap by Aisle 9 Soap Co. It's time to pamper yourself, naturally. 🚿✨
#Aisle9OasisSoap #NaturalSkincare #PamperYourself #DetoxifySkin #LuxurySoap #SkinCareEssentials #RejuvenateYourSkin
Olive Oil, Tallow, Coconut Oil, and Cocoa Butter.  NaOH Sodium Hydroxide (Lye) Water
Tea Tree & Lemon Essential Oils with Activated Charcoal Bentonite Clay
Batches:
1Jan2302
2Jun2301
View full details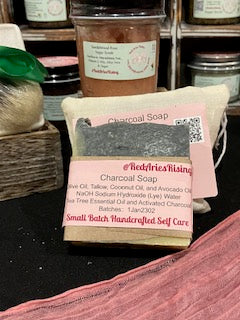 Oasis Bar Soap
Highlights

Say goodbye to dry, lackluster skin and hello to a spa-like experience every day. Our Oasis Bar Soap is a blend of nature's finest ingredients – olive, tallow, coconut, and avocado – to provide your skin with the nourishment it craves. 🌱
Ingredients

Olive Oil, Tallow, Coconut Oil, and Cocoa Butter. NaOH Sodium Hydroxide (Lye) Water Activated Charcoal Lemon and Tea Tree Essential OIls
How to

Cleansing soap bar for your face and body.

Patch test before use

Lather bar soap with a washcloth before applying it to your body, then rinse the soap off.
Disclaimers

DISCLAIMER: These statements have not been evaluated by the Food and Drug Administration. This product is not intended to diagnose, treat, cure or prevent any disease*
DISCLAIMER: The consistency of our products may change due to extreme heat or cold weather. Products may freeze and/or melt during transit (shipping or delivery). Red Aries Rising recommends selecting a local market to pick up because we are not responsible for freezing or melting of products during shipping.
DISCLAIMER: Our products are small batch handcrafted. There may be inconsistencies from the use of natural ingredients. Our products are made with same recipes, however, temperature and product lots could impact the color, scent, and/or texture of products.
When switching from chemical products to natural products; irritation, redness or burning can occur. We recommend doing a patch test for all of our product before fully utilizing on your body.
Irritation, redness and burning are reactive symptoms, if you experience during patch test, DO NOT USE PRODUCT. If at any time you begin to have these reactions, DISCONTINUE USE OF PRODUCT(S) IMMEDIATELY.